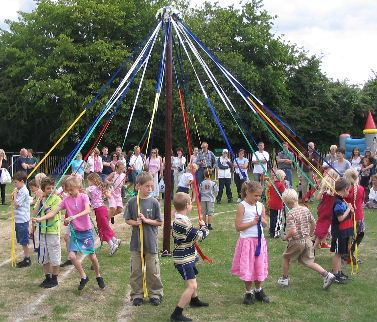 May Day is just one of the many celebrations I remember as a little kid. My Mom always created little May Day baskets that we would then give to our friends in the neighborhood. In the tradition of May Day, we would ring the bell of our friends, leave the May Day basket on their step and run. If the person sees and catches you, they could kiss you. Eew. Although this tradition is fading since the 20th century, some (including my family) still celebrate it.
On a more serious note, I never
really questioned the history behind May Day and this pagan celebration as a kid. I guess I didn't realize what this holiday means and meant for people around the world. In one instance, the Catholic church views the month of May as the month where Catholics celebrate the blessed Virgin. For others, this day marks something much different.
According to Wikipedia, May Day can refer to various labor celebrations conducted on May 1 that commemorate the fight for the 8 hour work day. It is hard to believe that there was a time when people were forced to work long hours and even worse working conditions. May Day in this regard is called The International Workers Day or Labor Day. The idea for a specific worker holiday began in Australia in 1856. Alternatively, Labor Day then traditionally occurs on the first Monday
in September in the United States. That is what I thought and remember as a kid. What I failed to notice is how people also use May Day as a day for political protest or as a day for protest against government actions, such as pro-immigrant rallies across the United States.
I read that in keeping with this tradition, Zurich, Switzerland can be a scary place to be on May 1st that can include violent riots and rubber bullets. I think I much rather enjoy the tradition of making May Day baskets and dancing around maypoles then being in the way of the cross fire.